You've heard it before, sitting is the new smoking, so what can you do to add more movement today, this month, and the rest of the year? April is Move More Month. You can be more physically active without having to go to the gym. Replacing sedentary activities with active activities can help your mind and body in the short and long term.
Exercise Guidelines
The goal is more activity and less sitting. Exercise guidelines vary based on life stage.
Exercise Guidelines for Youth
Preschool age children should be physically active throughout the day to enhance growth and development. Children and adolescents should get 60 minutes of activity daily. This should include a combination of aerobic, muscle-strengthening and bone-strengthening activities.
Exercise Guidelines for Adults and Older Adults
Adults should do at least 150 minutes of physical activity per week. Older adults have the same recommendation and should focus on activities that improve balance and strength. Worldwide, around 1 in 3 women and 1 in 4 men do not get enough physical activity to stay healthy (1).
Benefits of Exercise
Who should exercise? Everyone! All people can benefit from physical activity and exercise. Physical activity helps your heart, body, and mind.
Why You Need Activity
Adding more movement to your day improves bone health, heart health and mental health, improves weight status, reduces the risk of disease, certain cancers, and falls, and helps support a healthy body weight (1).
Physical activity also reduces symptoms of depression and improves academic performance in children (1). A single session of physical activity can reduce blood pressure, improve insulin sensitivity, improve sleep, reduce anxiety symptoms, and improve cognition on the day that the activity is performed (2).
Cost of Inactivity
Children and adults spend approximately 7.7 hours being sedentary (2). Replacing sedentary activities with light or moderate intensity physical activity produces health benefits. The lack of physical activity is linked to approximately $117 billion in annual health care costs and about 10% early deaths (1).
Ways to Add More Movement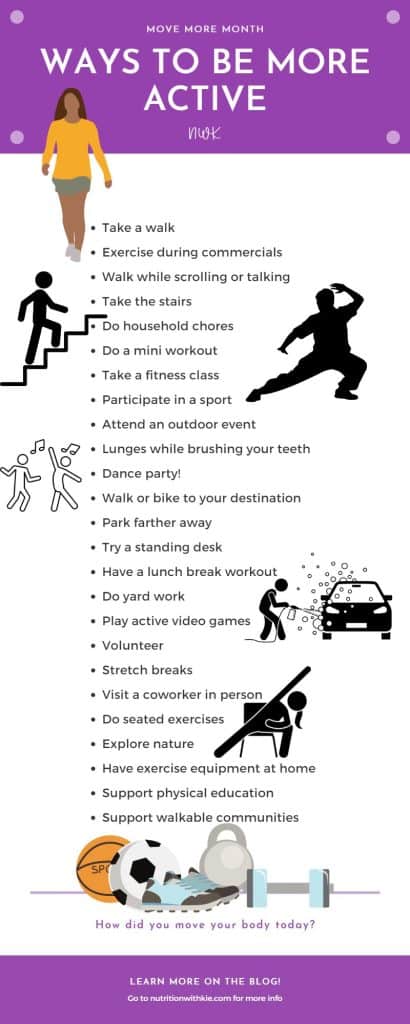 Go for a walk – alone, with your children, spouse, pet, neighbor, friend, or coworker. Walking is a simple, cheap, and great way to add more movement to your day.
Exercise during commercials or while watching TV. Try running in place, stand and sit, jumping jacks, planks, or lunges!
Walk while you talk on the phone or scroll social media.
Take the stairs over the elevator or escalator.
Tackle the chore list! Washing dishes, taking out the trash, cleaning the bathroom, doing laundry and vacuuming are all activities to get you off the bed or couch.
Do a mini workout – ten minutes or less. Create your own workout or find one online.
Take a fitness class, join a walking club, or join a sports league. A local YMCA, gym or community center usually offers fitness classes and sports for all ages.
Attend an outdoor event like a farmer's market, fair or vendor event.
Do squats or lunges while you brush your teeth.
Turn on some music and have a dance party!
Walk or bike instead of driving if possible.
Park farther away when going out.
Try a standing desk or under desk elliptical.
Have a lunch break workout.
Do yard work. Gardening, raking leaves, mowing the lawn, or washing your car will get you not only fresh air but activity as well.
Play active video games.
Volunteer!
Break up your screen time every 30 minutes to stretch.
Visit your coworker instead of emailing or instant messaging.
Do seated exercises like knee lifts, kicks, punches, or arm circles.
Explore nature! Find a new trail or park in your local area to visit.
Support physical education in schools to help keep children active during the school day.
Keep exercise equipment visible at home so you can use it.
Is your child in a sport? Walk the sidelines at games or practice with them!
Advocate for walkable communities to make it easier and safer to walk or bike in your neighborhood.
Make a Plan to Get More Movement in Your Day
Keep track of how you spend your time during the week and look for opportunities for fitness. Secondly, start with small goals that work for you and your family. Lastly, start with what you know and what you have. At home, at school, at work and elsewhere there are many ways to reduce sedentary time. Don't forget to stay hydrated as you increase your activity.
Get Moving!
Sedentary habits and inactivity are increasing for all age groups. Review your daily routine and look for opportunities to increase your activity and movement throughout the day. Adding a few more steps to your day will help your mind and body. Commit to doing some activity this weekend that will get you moving. Start moving today!