Say goodbye to the cold, snow and layered clothing and say hello to warmer temperatures, blooming flowers, and brighter days! Lasting until June, the Spring season brings new fruits and vegetables to feast on! Read on to see the spring fruits and vegetables you should be adding to your grocery list.
Eating by the Seasons
Eating seasonally is easier in the Spring and Summer months as more fresh produce is available. Visit a farmer's market, produce market, or farm stand to get the most local and freshest produce. Eating seasonally is good for your health, the community, and environment. For more information about seasonality view my previous Eating by the Seasons post.
What's in Season in Spring?
Springtime brings a variety of fruits and vegetables to your grocery store. Seasonal produce will vary based on location, weather, and growing conditions.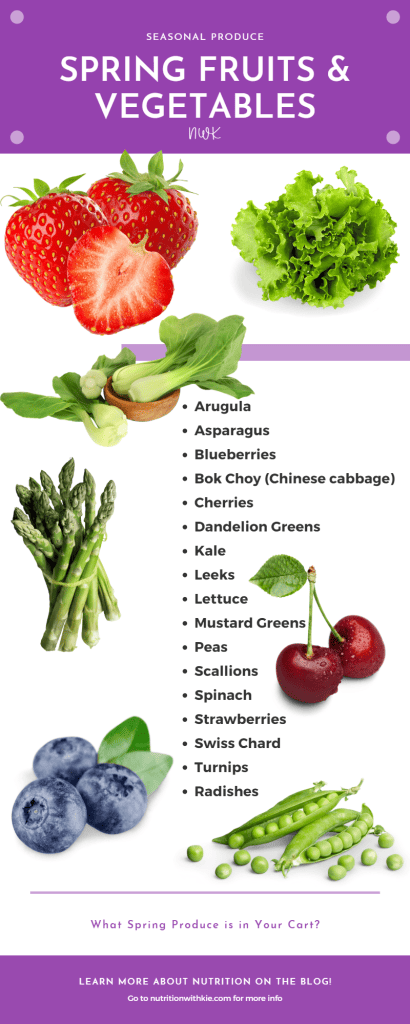 In Season Spring Fruits and Vegetables
Apricots, bitter melon, cherries, honeydew, jackfruit, limes, lychee, mango, oranges, pineapple, and strawberries are Spring's in season fruits (1). Try mango, orange, pineapple, and strawberry in a smoothie.
The Spring season brings us the following vegetables: artichokes, asparagus, broccoli, butter lettuce, collard greens, corn, fava beans, fennel, green beans, mushrooms and mustard greens.
Furthermore, peas, radicchio, radish, red leaf lettuce, rhubarb, snow peas, spinach, Swiss Chard, Vidalia Onions, watercress, and white asparagus are available (1).
Spring Fruits & Vegetables List in New Jersey
There are few fruits available in April and May, with most coming late May or June. The New Jersey strawberry season starts in late May and goes on until early July. Blueberries and cherries arrive in June (2).
Spring brings arugula, asparagus, Bok Choy or Chinese cabbage, collards, Dandelion Greens, kale, leeks, lettuce, mustard greens, peas, scallions, spinach, Swiss chard, and turnips. Radishes are available in June (2).
Preparing Your Spring Fruits and Vegetables
Perfect room temperature or chilled, take your spring produce haul to a healthy picnic. Try the spring vegetables in a frittata, soup, stir fry, or pasta salad. With a combination of asparagus, carrots, onions, sugar snap peas and radishes serve this spring sauté recipe alongside chicken or fish.
Instead of just eating raw, try apricots in a yogurt parfait, pureed on top of oatmeal or waffles or add dried apricots to a salad or trail mix. Blend sliced apricots and orange juice then freeze to make a refreshing popsicle for hot days!
Consider a charcuterie board of fruits and vegetables, crackers, cheeses, and dips to share at your spring festivities! Add chopped kale, Bok Choy and/or scallions to soup, stir fry, or salad. Mix kale, lettuce, and spinach to make the base of your mixed green salad.
Enjoy Your Spring Produce
New Jersey may not have a lot to offer yet, but the Spring is bringing a lot fresher produce to your grocery store than the Winter. Take advantage of the spring season to incorporate more fresh fruits and vegetables into your shopping and cooking habits. Eat them on their own, add to a side dish or incorporate into a dessert, there are many ways to enjoy the Spring fruits and vegetables. Let me know what three fruits and vegetables you will be having this Spring!